Flexible Rubber Splice Conveyor Belt Fasteners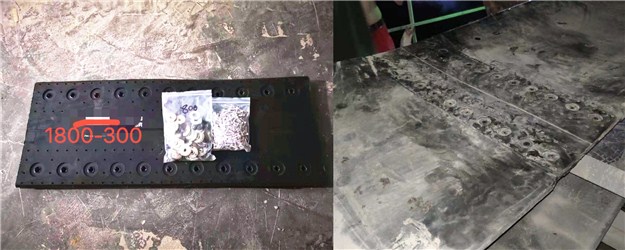 Flexible rubber splice that screws directly onto the belt.
This high strength splicing system is a flexible rubber splice using self tapping screws conveyor belt repairs materials is made from reinforced rubber corresponding to the various conveyor belt quality, the mechanical joining technique is easy to complete, without the need for a skilled operator and heavy, costly equipment.
Flexible conveyor belt fastener is an innovative and fast solution for splicing your belts. It is a flexible rubber lacing to screw on to the belt as an alternative to vulcanizing.
Applications :
Suitable for various Heavy rubber conveyor belts in coal mines, quarries, steel plants, cement plants, ship terminals, etc.
- No need for electricity power
- Leak proof
- No use / need for expensive equipment
- High tensile strength: 200-1600 N /mm
- Nengths:400-500-600 to 2000mm
- Rubber splice thickness:7mm-16mm
- Suitable belt up100°C to 180°C
- Many rubber qualities available
- Provide matching accessories- screws and inserts